Please refer to my renewal day, I'll be here at least until Oct 21, 2024.

Welcome to Yulian Win-Win Translation Office!
Yulian Wang is always here, as your professional
English to Chinese Translation Service
translation partner!
Membership
ProZ.com member
Renewal date: Oct 21, 2024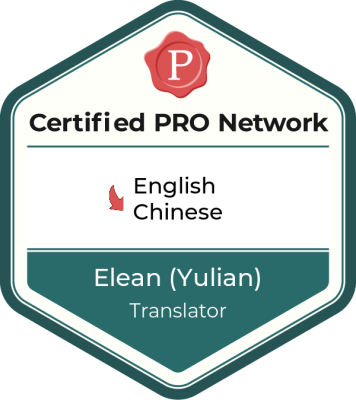 A proven reliable service brand and platform has run smoothly and efficiently for seven years here. The translation is not mere meaning translating, it is more about function and logic conversion. I do my best to popularize and practice scientific translation flow here to further ensure quality service. Reliable and quick turnaround here enables timely delivery. Proofreading and/or self-QA included. Trusted Project Management and English<>Chinese translation service provider. You get more than translation here.
Contact Yulian Wang !
Skype: lianyaer
Your Reliable English<>Chinese Translation Service Provider
. Contact me for a quote, please send your files/request via Proz.com or directly to
[email protected]
Qualification and Certificates:
1. Chinese Mandarin Proficiency Certificate, Level II, Grade A, P.R.China (Certified by the Chinese Ministry of Education)
2. College English Test-6 (Jan. 2004)(Certified by the Chinese Ministry of Education)
3. iBT (reading:27/30)(Nov. 2009); GRE (Oct. 2009)
4. National Computer Rank Examination Certificate Grade 2 in Language C.(Sep. 2002)
5. Qualification Certificate For Senior High School Teachers (Jun. 2005) (Certified by the Chinese Ministry of Education)
6. Bachelor of Science in Chemistry Education, Hebei Normal University
7. Master of Science in Chemistry, Dalian University
Ideas & Philosophy:
Every client wants a professional translator in order to receive accurate and standard translations. But, the fact is that even the scientists can not guarantee they understand the specialties of their fellows quite well until they spent time and energy on collecting and learning relevant information. On the other hand, linguists with only language skills usually are unable to maintain the accuracy of specialized vocabulary, let alone understand the principles of equipment or instruments. Logically, only
Scientific and Intelligent Work Flow and Efficient and Flexible Project Management
can guarantee the translation quality! Now, with AI and CAT tools, especially with the 12+ years of expertise in the translation industry, your partner in English to Chinese is just here.
Translation Fields:
IT, Hardware, Software, SAP, Tourism, Chemicals, Chemistry patent, Science, Automobile, Mechanical engineering, Business, e-Learning, HR, Training, Education, Wine, Food industry, Cooking, Energy, Power Generation, Medical: Instruments, Social science, Nutrition, Government,
Website Translation
and more.
System and Tools:
200M network; 5PCs networked
4G RAM+1T hard disk+23.5' dis-player
Printer
Scanner
Copie
Trados Studio Freelancer 2021 plus
Trados 2019 Studio Professional
MultiTerm 2021
MemoQ 2015/9.4 Windows 10
Office 2016
Adobe Converter
Professional PDF editor
Advanced OCR tools.
Consulting Service about Chinese Culture:
If you want to know more about Chinese Culture, just contact me. I helped one client find out her Chinese root and she felt so excited and happy!
Published Papers
1.
Yulian Wang
etc, Photonic Crystal in Hydrogel. Progress in Chemistry, 2007, 19(10): 1475-1480
2. Kehai Chen,
Yulian Wang
, etc. Study on the Interaction between Vincristine and Bovine Serum Albumin. Spectroscopy and Spectral Analysis, 2008,28(6):1375-1378